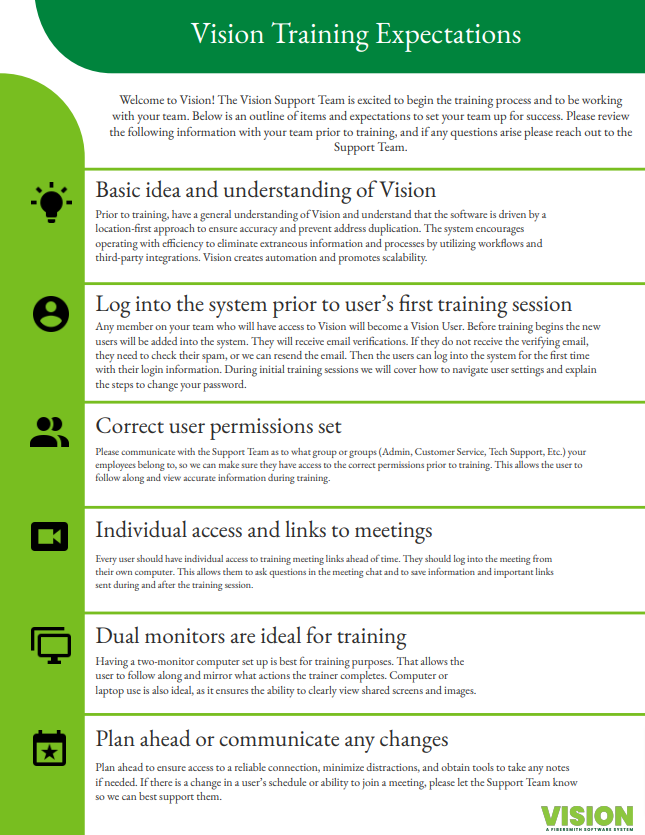 Training Expectations
---
Welcome to Vision! The Vision Support Team is excited to begin the training process and to be working with your team. Below is an outline of items and expectations to set your team up for success. Please review the following information with your team prior to training, and if any questions arise please reach out to the Support Team.
---
Basic idea and understanding of Vision
Prior to training, have a general understanding of Vision and understand that the software is driven by a location-first approach to ensure accuracy and prevent address duplication. The system encourages operating with efficiency to eliminate extraneous information and processes by utilizing workflows and third-party integrations. Vision creates automation and promotes scalability.
---
Log into the system prior to user's first training session
Any member on your team who will have access to Vision will become a Vision User. Before training begins the new users will be added into the system. They will receive email verifications. If they do not receive the verifying email, they need to check their spam, or we can resend the email. Then the users can log into the system for the first time with their login information. During initial training sessions we will cover how to navigate user settings and explain the steps to change your password.
---
Correct user permissions set
Please communicate with the Support Team as to what group or groups (Admin, Customer Service, Tech Support, Etc.) your employees belong to, so we can make sure they have access to the correct permissions prior to training. This allows the user to follow along and view accurate information during training.
---
Individual access and links to meetings
Every user should have individual access to training meeting links ahead of time. They should log into the meeting from their own computer. This allows them to ask questions in the meeting chat and to save information and important links sent during and after the training session.
---
Dual monitors are ideal for training
Having a two-monitor computer set up is best for training purposes. That allows the user to follow along and mirror what actions the trainer completes. Computer or laptop use is also ideal, as it ensures the ability to clearly view shared screens and images.
---
Plan ahead or communicate any changes
Plan ahead to ensure access to a reliable connection, minimize distractions, and obtain tools to take any notes if needed. If there is a change in a user's schedule or ability to join a meeting, please let the Support Team know so we can best support them.