Implementation Process
---
The Support Team will work with your Point-of Contact and team to during the implementation process. We will set up a timeline with stages that meet your goals to become fully integrated into Vision. Every company's timeline is tailored to best meet their needs. However, there are some key steps and goals listed below. The stages listed below are meant to be a guideline and reference. Reach out to the Support Team for more information and questions.
Before you are fully adapted and transitioned the Support Team will want you to meet the following goals. We will want to make sure packages are setup correctly and reporting and billing are functioning properly. Service areas are properly defined with the correct service offers tied to them. That way it is very clear to anyone working in the system what service is available where. The public shopping cart is set up and the cart is being promoted on the company website and social media accounts. We want to be sure circuits are actively integrated into the system and the majority of customer equipment is in the system. Workflows should be utilized for many of your company's processes. All of these items will come with process, implementation, and support.
Things to keep in mind:
Billing:
Invoice Date
Recurring Payment Dates
AutoPay: (Ex: 3rd of month)
Net term: (Ex: 10 days)
Shut off date
Payments: Integrations
​​​​Network Considerations:
Network Import: (Greenfield/ Existing)
Hardware: Integrations
Fiber Design (Ex: 3-GIS, training with FS Engineering)
Monitoring
Provisioning: (Ex: Preseem; Calix AXOS)
IP Assignments/Authentication: (Ex: Mikrotik)
Timeline:
Based on the Pace of the Build and Construction
Current Number of Customers
Turn Up by (Date)
Learn More About:

---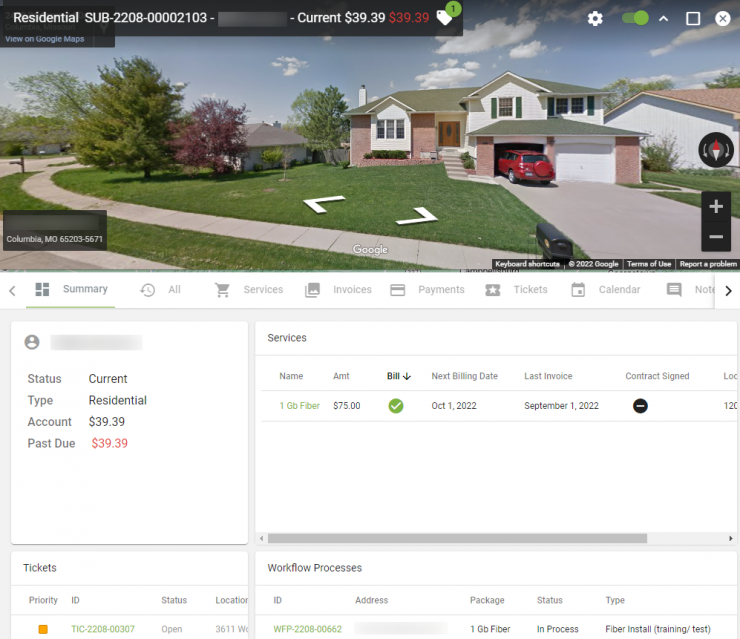 ---

---
Setting dates for when items will be completed is a first major step. Due dates will vary from client to client, and we will work to set up what is best for your company. Our support team and your team or point-of-contact will layout a clear set plan with start and end dates to keep tasks on schedule and moving forward. If there are changes or delays, that can and will effect that timeline. The Point-of-Contact will give a list of employees and their roles to the Support Team. This way we will know who needs to be involved in certain onboarding trainings. The Point-of-Contact will help with the transition by attending all trainings with their users and the Support Team.
Client to provide access to data sources: Example- Ubiquiti CRM, Cambium/CNMaestro
Build Service items/ packages / offers / service areas – Vision Assist
Online signup site set up and linked on website for demand aggregation

Vision web server: 
Temp URL:
New TBD: ex Internet.ClientName.net

Finalize setup of Vision tenant – Vision

Review all branding setup
Configure billing timing settings
Client to provide sample invoices

Setup DKIM record for outbound email – Vision & Client

Vision will generate DKIM record, and send to Client for adding to their domain
Vision will receive confirmation message when this is setup properly
This step verifies your domain with Amazon SES, allowing Vision to send email on behalf of your company for customer notifications.
Needs to happen within 72 hours of being sent by Vision

Import lead data if available, demographic CSV – Vision & Client
Import address data, if available – Vision & Client
Send Payment Processor API Credentials – Client
Monitoring proxy server setup – Vision & Client
---
Build out system inventory warehouses (Towers, COs, storage facilities, tech vehicles)
Build out basic marketing campaigns – Vision & Client
Build out basic Purchase Order system – Vision & Client
Model hardware – Vision

Client will send manufacturer and model numbers of devices for network deployment

Build out basic install calendar – Vision & Client
Build out basic ticket system – Vision & Client
Build out batch notification email templates
​​​​Billing Integration

Set up accepted payment methods – Vision
Complete test transactions – Vision

Training – Basic Intro Subscriber Account Training – Vision & Client
Begin Subscriber import
Begin importing existing hardware into inventory
Begin Subscriber network backfill
---
Continue Subscriber Import
Continue Subscriber network backfill
Begin testing integration workflow functions
Verify network proof of concept with test equipment
Verify network proof of concept with new install
Verify tax set up and sample invoice
Verify Subscriber Portal website set up
---
Continued training with the Support Team on Customer Service/Tech Training – Vision & Client

Package Install workflow
Upgrade/downgrade workflows
Cancellation workflows
Suspension workflow
Dispatch workflow

FREEZE old System Activity

What to expect during Freeze Week.
All Actions in Vision

Send batch billing cycle out of Vision
Post Transition: 30-90 Days

Basic Dashboard Reports
Employee additional training (Individual / Advanced Level)
Assist in company adoption of Vision's process-based operations and system best practices (Workflows, Inventory, Installs)
---