Contractor Portal
---
As your company is building and moving forward in the telecom industry, network expansion projects move fast. Managing multiple teams and systems can be a hurdle!
Vision provides ISPs with a portal into their system made specifically for 3rd party contractors. Having outside contractors established and using the portal gives you and them the ability to be more streamlined on construction and install orders.
The Contractor Portal was built to give third-party contractors the ability to gain quick access to tickets and tasks assigned to them without access to potentially sensitive company or subscriber data. Essentially, as soon as they log into the portal they will instantly see their assigned tasks to complete. From a tasks and ticket list, contractors can quickly know when and where it's time to build, when and where there are locates to call in, when and where to construct a drop, and when and where to install new subscribers.
The Contractor Portal was designed to mirror the software. Items are clickable, therefore contractors can click into the tasks assigned to them and quickly view more details. The portal is mobile friendly, so it can be utilized out in the field. The portal is continuing to be updated to best serve our clients.
Our Support Team will work with you to get your Contractor Portal URL up and running at no extra charge.
Contractor Portal: companyname-contractor.fibersmith.systems
Be sure to bookmark your company's contractor URL.
Need to add a contractor login to the Contractor Portal? Go to Contractor Users for instructions.
Quick Links to Learn More: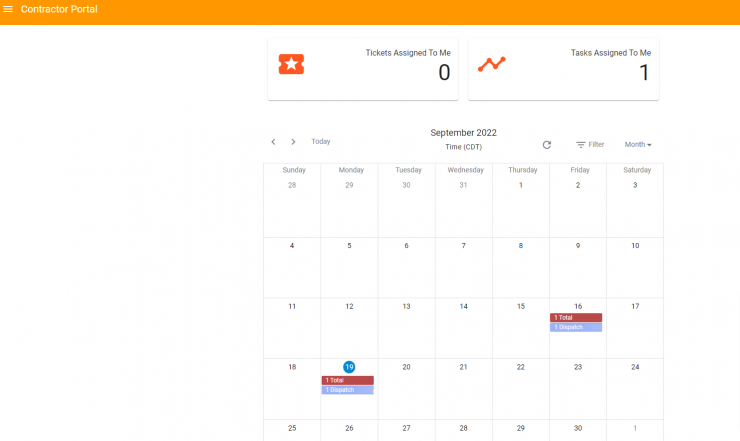 ---
In the upper left-hand corner, you will find the main menu.
At anytime click on the

icon in the menu or click on the words "Contractor Portal" to bring you back to your main dashboard.

---
When you click on an event on the calendar, you can view more details. View the tile of the event, date, and time. Look to see who is assigned the task as well. This is also a quick way to view the location of the event and the subscriber contact information.

Example of a Calendar Event:

Click on the

icon from the calendar event page to view the workflow associated, and either add a new workflow, or start the workflow. Click on the

icon to view notes.

---
From the main dashboard of the Contractor Portal, a contractor can quickly click straight into their tickets and tasks assigned to them.

Once you click on a 'Tickets or Tasks Assigned to Me' button, you will see either a list of Tickets or a list of Workflows associated with your tasks.
From your list of Tasks, you can view the Workflow process ID, type, subscriber, address, etc. Click into a Workflow to view task details.

Example of Tasks associated with a Workflow process.

Click on a drop down to view more details, complete a task, or add notes.

Click on the Workflow ID number at the top of the page to view subscriber information and service details.

Click the
icon to view attachments or add new attachments.