Events
---
Network Events may range from planned events such as upgrades to unplanned events such as service outages. Vision tracks such events with a Network Event Ticket. Network Events are similar to Subscriber Tickets in their creation and use, but are more broad in that they can be associated with multiple Subscribers, Hardware, Tickets, and Circuits.
---
---
Click on each field on the Network Event to make changes such as assignments, priority, etc. Below the Network Event you'll see a log of all changes and notes. Click the icons in the toolbar to do the following:

- Refreshes the log to reflect any changes
- Adds a note to the log
- Add attachments
- Send Email to Subscribers
- Send SMS to Subscribers
Click the Email Report icon. Here you can view email reporting on a specific Network Event. You can view how many associated subscribers opened and clicked links in a network event email. You can also view how many emails bounced. At the bottom of the page click View Email Body to view the original email body.



View the list of recipient emails who opened the network event email. Take notice of when the email was sent and the date and time it was opened. At the bottom right-hand corner click to download the HTML or CSV document.

View the list of recipient emails that had emails bounce. Take notice of the bounce date and bounce type. At the bottom right-hand corner click to download the HTML or CSV document.

Here you can add and edit associations with the Network Event. Click and search in the available fields for associations you may wish to add. Associations can be Subscribers, Hardware, Tickets, or Circuits. When finished, click SUBMIT EDIT.
Add at least one subscriber association to send an email or text message. If there are no subscribers associated with the event, the options to email or text will not display.

Here you can view the Workflow that is either in process or finished.

You can create and publish a Facebook post straight from a specific network event. From the menu click Network and then Events. From there select the event you are working with.
From the event selected click on the

icon from the header menu.
Design your post, include links and/or images. Then PUBLISH your post now or choose to schedule it for a later date.


---
There are several ways to create a network event.
From the network events page, click
in the bottom righthand corner to add a new event. Enter a description and any notes or comments. Then click ADD EVENT.

From the base map, click on the toggle map layers icon
and select the Subscriber tab from the drop-down menu. Choose which data to display on the map from the drop-down menus, then click DISPLAY ON MAP.

The selected subscribers will display on the map.

Use the Select Data Objects tool
(lasso tool) to highlight and select addresses within an area.

Then, select the ADD EVENT button in the bottom righthand corner.

It is also possible to create a network event from the subscriber report page. Select the applicable subscriber categories to generate a list, then select ADD EVENT.

Choose whether to associate the subscribers with a pre-existing network event, or create a new event by selecting Add New Event.

Enter the network event description and add any notes or comments, then click ADD EVENT.

View the network event, change the category, start and end date and priority.

Some event categories will have a Workflow associated and will prompt you to start that Workflow upon choosing that category.

---
---
Network events can vary on who it may affect and what problems may arise.
The following can be a network event that you could quickly set up to resolve the issue for your subscribers
Fiber cable cut
Weather storms
Power outages
In those instances you can set up an event to send out an email to notify subscribers.
To add associates by subscribers you will go to the OPERATIONS tab, select SUBSCRIBERS, and under the REPORTS page select the type of subscriber, package, or lead you would like to create an event would allow for an option for simplifying the process.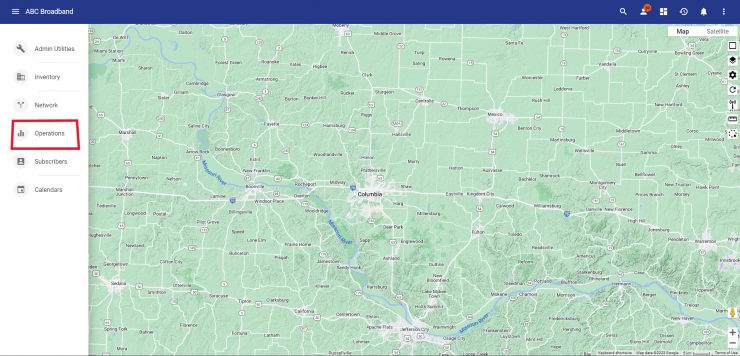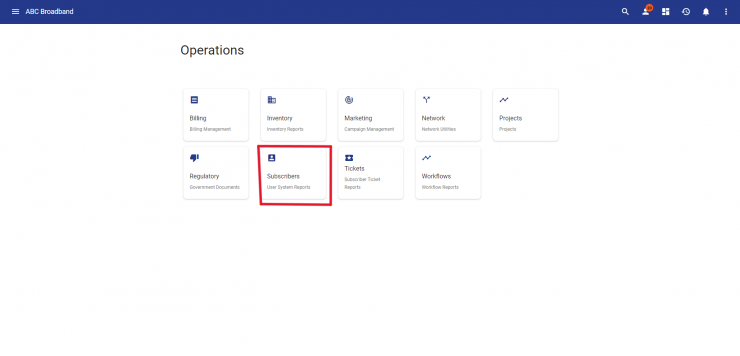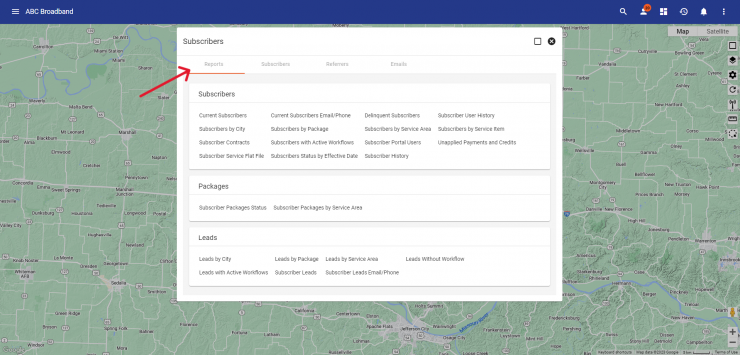 ---
---
In the circumstance of a network event happening to be able to send a notice to subscribers about outages, fiber damaged, etc.
To send an email to subscribers that are dealing with outages you can do so in the Network Event interface by selecting the
.
You can create a template or create your own email that is customizable by you to include your logos and graphics. If you would like to preview what the email would look like you can send a test email to yourself to make sure its what you want customers to see.