Billing - Batch Transactions
---
The Batch Transactions section records the system's mass invoicing and billing transactions like recurring payments.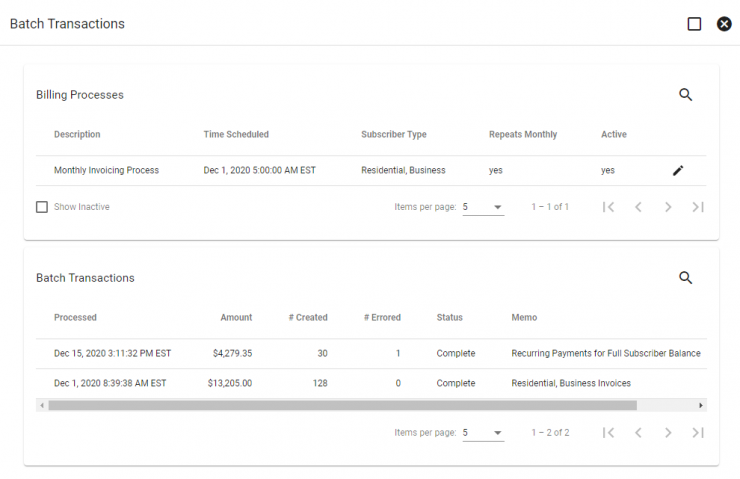 ---
---
Billing processes lists the current billing cycles, and distinguishes between business and residential billing cycles.
View the billing cycle status under the Active column. To view inactive billing cycles, select the Show Inactive box in the lefthand corner.
Click on the edit
icon next to a billing cycle to make changes to the cycle.

Make changes to the header description or change the cycle status to active or inactive. Select a subscriber type from the dropdown menu.
Under the Options section, make changes to enable or disable referral credits and paper billing fees. Select a credit type from the dropdown menu to make changes to the referral credit type. Input the referral credit dollar amount and the number of referrals. Select the paper billing fee package from the dropdown menu.
Click EDIT HEADER when finished.

---
View the billing history under Batch Transactions. View the total batch billing amount under the Amount tab and the number of subscribers billed under # Created.
The Status column lists the status of the batch, while the # Errored displays the number of billing errors within the batch. Every item listed is clickable and links to the applicable subscriber's account.

Click on a line item to view more details about a specific batch, like the Subscriber name, Subscriber type and transaction date.

Click on the PDF icon to the right of a Batch Transaction to download a batch of invoices for internal purposes or to mail to a Subscriber.

Click on the PDF icon to download the batch. Some batches will display several options of PDFs to download, while some will provide just one option. Download the PDF to print the invoices for subscribers who prefer to recieve a printed invoice.

Please contact your Vision support team to edit batch transactions.