Attachments
---
Attachments can be files or images that give more information about a Subscriber. Click the Location Image toggle to display the image on the Subscriber Account Page. Click

to delete an Attachment. Click the Attachment file name to download or click the download

icon. Select the Preview All Attachments toggle to view images at the bottom of the page.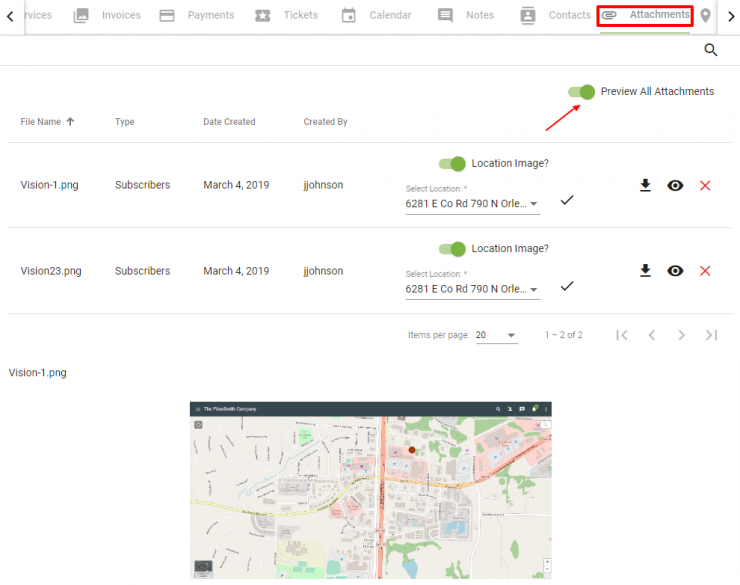 ---
---
Click the Attachments tab on a Subscriber's Account page to view all attachments.
Slide the toggle next to Preview All Attachments to preview all attachments on the account.
Click on the download icon
to download individual attachments. Or click on the preview icon
to preview an individual attachment. Click the

icon to clear attachment.

---
---
To add a new Attachment, click the Floating Action Button
then Click Add Attachment
.
Drag and drop files or add files from your computer to the Attachment field. Standard imagine file attachments are compatible with the system. (Ex: JPEG, Zip File, PDF, PNG, GIF, KML, Docs, ect)


---
---
You can choose to have attached photos displayed on a Subscriber Account page. First add an attachment. Then click the Location Image toggle, select the location, and click the

icon to save.
You may choose multiple attachments to display. The chosen location image will display on top of the subscriber's account page, where the Google street view typically displays.