Report Cards
---
Dashboard Report Cards are customizable snapshots of data that can be displayed on a user's homepage.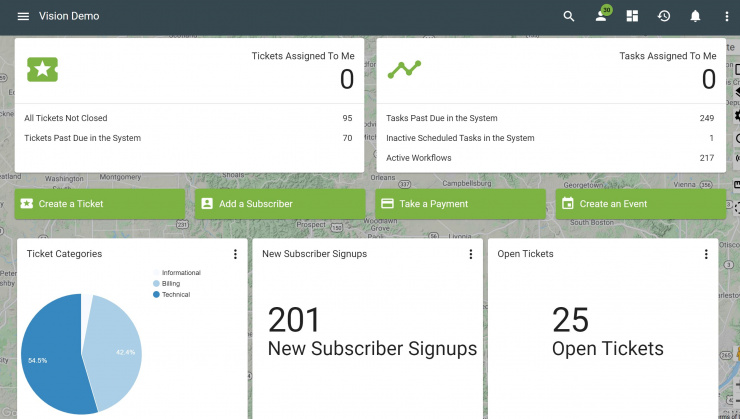 ---
---
Dashboard reports can be created and customized under operations. Click on a section under operations to view available reports.
The subscribers section features commonly used reports like Leads by Package, Subscriber Packages Status and Current Subscribers.
Select a report to generate. (The below report example is Leads by Package.)
Choose the data to be compiled in a report from the dropdown menu, or leave it blank to pull data from all fields.
Click CREATE REPORT to generate a report.

View the details of the report or filter which results to display under the
icon. To create a dashboard from the report, select ADD DASHBOARD in the bottom righthand corner.

---
Create a name for the dashboard and select a chart type* option to display the data.
The "Bars" and "Bar Size" dropdown options dictate how the data is displayed.
Input the X-Axis and Y-Axis Lable descriptions and choose a color scheme if desired. Toggle between the narrow and wide display options for the dashboard card.
Select which groups will have access to the dashboard report card.

*Select a method of displaying the dashboard report card. Available chart options also include a count / sum of results.

Preview the selected chart type by clicking PREVIEW at the bottom of the page.

Creating a company dashboard makes a specific dashboard available to all users of a specific group. For example, a marketing administrator could create a dashboard visible only to the employees in the marketing group. Selecting ADD TO MY DASHBOARD will only apply the report card to that user's specific dashboard.
---
Below is an example of a dashboard card generated based on a report.

Click on the
icon to modify the dashboard card (see below). Click Hide to hide the selected dashboard.

Select View Data to change the display of the dashboard card from a graph to a numerical list of data.

Select Open Data Dialogue to view the original report that generated the dashboard card.

---
Edit Display allows you to make changes to the dashboard card display and graph details.