Mass Shopping Cart
---
The mass shopping cart tool allows for an offer to be added to subscriber accounts in bulk.
Click on the
in the upper right hand corner of the service offers page to access the mass shopping cart.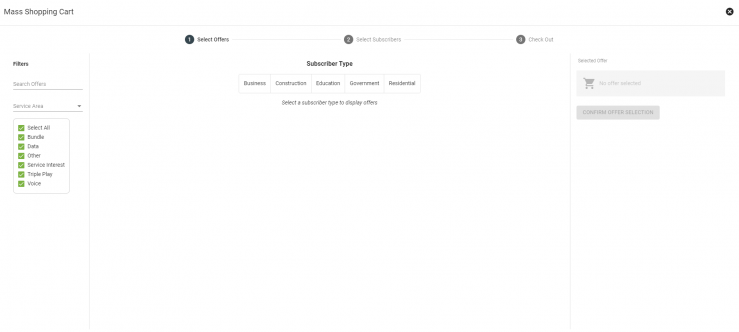 ---
Choose a subscriber type from the options at the top of the shopping cart (business, construction, education, government and residential). Only available offers for the selected subscriber type will display.

Choose a selected offer to add to the shopping cart, then click CONFIRM OFFER SELECTION.

The shopping cart then searches for subscribers in service areas where the selected package is offered. The number of subscribers is visible in the left hand column, or at the bottom of the list next to "items per page." Choose a status from the drop-down menu in the left hand column to filter the displayed subscribers, or search for a specific subscriber.

Select individual subscribers to apply the offer to by clicking on single addresses from the CSV file (on the left).

Click on the arrow pointing to the right-hand side of the page to apply the offer to all subscribers.

Select CONFIRM to add the offer to the listed subscriber accounts.